The first weekly professional magazine for vets

"La Settimana Veterinaria" has been part of the Italian veterinary editorial sector for 14 years now and is the first weekly professional magazine for vets. With 44 issues per year, every week it displays news concerning the professional, technical, scientific, political and trade union's world, with reports of congresses, in-depth reviews, and interviews; continuing education is guaranteed by scientific and management themed sections; comments and readers opinions are welcomed in a dedicated area. Finally, every week a particular subject is given an in-depth profile.
A calendar of the most important events for veterinarians represents an significant part of the magazine: courses, congresses, seminars, and conferences, along with classified ads are fully reviewed in it.
Since 2006 "La Settimana Veterinaria" has acquired a more manageable format, more closely related to traditional magazines, and with a new layout.

In the central part of the magazine, the supplement "Filiere"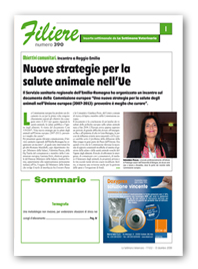 The "Filiere" supplement is intended for vets working with large animals and in agri-food chain, broadening then the topic to the whole chain, from the farmer, who considers vets a reference point to improve breeding performances, to final consumers, who demand safe and healthy food but are also aware of the importance of animal welfare.
> Last Issue - table of contents